By Joey Erickson – gophersports.com
Throughout the history of Golden Gopher Wrestling, there have been many pairs of dominant brothers who wore the maroon and gold: Gordy and Marty Morgan, C.P. and Dustin Schlatter, Dan and Larry Zilverberg, Jayson and Dylan Ness. The list goes on and on.
This year Gophers feature a new pair of brothers who hope to fit that same mold: junior Brett Pfarr and sophomore Chris Pfarr.
The Pfarr brothers grew up on the family farm – 1,000 acres of soybean and corn, with some pigs and cattle sprinkled in – about an hour southwest of the Twin Cities in Le Sueur, Minn. They grew up in the same house their mother had, with their father's childhood home just five miles down the road. That connection to family born on the farm permeates every aspect of the Pfarrs lives.
While the whole family shares the workload on the farm, it is Mother Pfarr, Robyn, who is the driving force.
"My mom is still the boss. She's pretty amazing," said Chris. "She does everything, hauls the grain, digs the ground. My dad is pretty much the planner, the manager, and my mom just does everything [else]."
While both Brett and Chris are quick to point out the benefits of growing up on the farm, finding a convenient place to train wasn't one of them. That is until their father began to slowly develop a wrestling facility right on their property, inside their machine shed.
"We have a [wrestling] mat. We have weight equipment. We have that kind of stuff, so it's all decked out," said Brett. "We have a corn stove that burns in the winter, so we could still train in there" on even the coldest Minnesota winter days.
Finding a place to train required a bit of farm ingenuity, but finding a partner was never hard. Like almost everything in their lives, wrestling was a family affair for the Pfarrs. Their father, Dave, wrestled in high school and their older brother, Matthew, was a two-time Division III All-American at St. John's in Collegeville, Minn.
"We're from a big wrestling family, so I got into it pretty early. Probably [when I was about] four or five, around kindergarten/pre-school," Chris said. "We just enjoyed wrestling … so we stuck with that."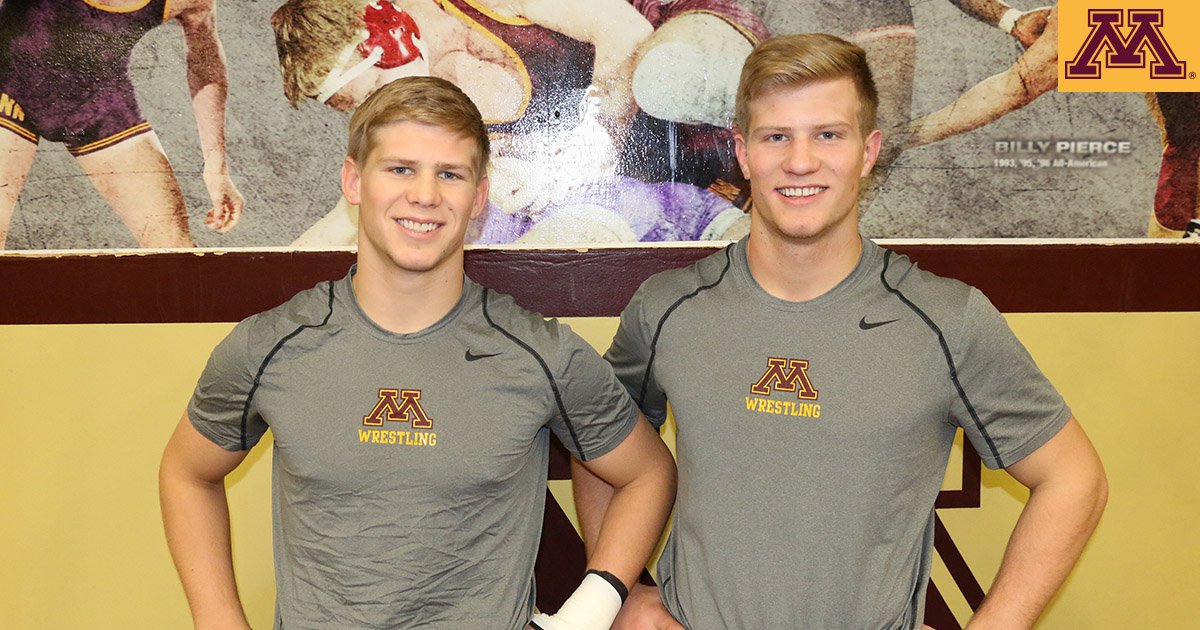 Enjoying wrestling helped bring both Brett and Chris to the University of Minnesota, but their connections to the school extend far beyond the edges of the mats in the Gopher wrestling room, back to their family. Their father and their sister both completed their undergrad work at the U, and Matthew came to Minnesota for grad school after his career with the Johnnies had ended.
"We're bandwagoning on the maroon and gold," Brett said with a laugh as he considered his family's ties to the U of M.
Both Chris and Brett have earned Academic All-Big Ten honors while majoring in Agriculture, Food and Business Management. Chris plans to return to the family farm after graduation.
"My plan is taking over the family farm [and] doing ag business on the side," Chris said. "Working with Ag-star, Pioneer, something like that. Syngenta, Cargill, all those good companies."
Brett plans to pursue a career in food business management after college.
"More along the line of the food business management … whether that be franchising restaurants or doing anything in the food production – delivery, production, or service," Brett said.
While the Pfarr brothers left Le Sueur to pursue their dreams in the Twin Cities, their bond not only with their family but their entire hometown remains strong. Early last season, in one of the first duals in which both Pfarrs started, a strong group of hometown fans made the trip up Highway 169 to see them wrestle.
"That was really cool because we had probably half our town come up," Chris said. "We had a huge picture at the end with my brother and me. … Everybody was encouraging. It was awesome."
Those hometown fans feel like family – probably because many are in some way – but having actual family, a brother, on the team is a bonus for both Brett and Chris.
"It's driving because Brett is really motivated and he's really focused," observed Chris. "Me? I'm not as focused as he is but, if I follow him, it helps a lot."
"I liked it when he joined the team because he was indecisive when I asked him if he wanted to or not. I'd say, 'Hey, you know it's a great brotherhood among the whole team, and you can stay training and get better and get in shape,'" Brett said. "It's nice to have him on the team."
The idea of a family atmosphere doesn't stop when the branches of the Pfarr family tree end. Chris and Brett are a family within a family.
Gopher teammates are "all like-minded, we all want to have the same thing," said Brett. "But we also like to have fun together. We all like to hang out. We live together. We socialize together. It really just makes it like a family atmosphere. That atmosphere is what I like best about the University of Minnesota."